>> Educated More Than 50,000 Australians Since 2007 <<
Our Vision
Formed in 2007, Zadel Property Education Pty Ltd (ZPE) is an Australian wealth education company, providing free and paid workshops in six major capital cities across the country. ZPE provides access to specialist education and delivers expert insights into strategies designed to achieve results in the current Australian market. These strategies aim to provide the foundation for your success in the new economy, primarily through property, as well as shares and mindset. Whether you're a complete newbie or you've already cut your teeth in property investment, I believe that we've got the perfect strategy for you! ZPE has a mission to inspire greater financial awareness within the wider Australian community by 2020 through its 5 Inspiring Goals:
Inspire A Community Of 1,000 Financially Abundant Australians – Will You Be Next?
Inspire 100,000 People Live At Our Events – Currently 73,822 attendees
Inspire Through The Distribution Of 1,000,000 Books – Currently 615,489 distributed
Inspire The Contribution Of $1,000,000 To Worthwhile Causes – Currently $471,591.60 contributed
Inspire The Planting Of 1,000,000 Trees In Australian Soil – Currently 45,297 planted = 27,006 (ZPE) + 18,291 (Clients)
---
Start Small. Stay Focused. Grow Strong.
73,822
Inspired & Educated At Our Live Events

615,489
Books Distributed Across Australia

$471,591.60
Donated To Worthwhile Causes

45,297
Trees Planted In Australian Soil
---
Stuart Zadel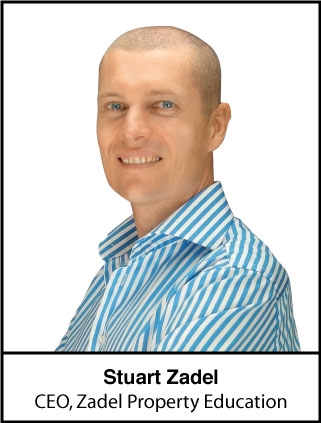 Stuart Zadel is the CEO and Founder of Zadel Property Education, and has trained more than 50,000 attendees live at his events since 2007. Considered by many to be an authority on personal development and human potential, he is a dynamic and entertaining speaker with a powerful ability to connect, educate and inspire.
Stuart is the mastermind and MC of the 'Ultimate Property and Cashflow Conference'; the creator of the books 'The New Way To Make Money In Property Fast' and 'The New Way To Make Money In Business Fast' and co-author of three separate books on Sales, Leadership and Public Speaking.
With over 600,000 copies of his books in print, Stuart is on a mission to bring greater financial awareness in the Australian community by achieving his 2020 vision. Read More About Stuart Zadel

In this fast-paced, ever-changing global economy and marketplace we now find ourselves in, Stuart believes that the seven single most expensive words you can say are these:
"But we've always done it that way!"
Stuart believes that the old traditional ways of doing things are exactly that – old and traditional. He doesn't believe they are as effective as they used to be. New thinking, new systems and new ideas are constantly
required to excel in this new economy and that's where many of the opportunities lie.
As Eric Hoffer once said:
"In times of change the learners will inherit the Earth,
while the learned will find themselves beautifully equipped to deal with a world that no longer exists."