4 Practical Ways To Increase The Value Of Your Property
Naomi Findlay reveals four practical ways to increase the value of your property.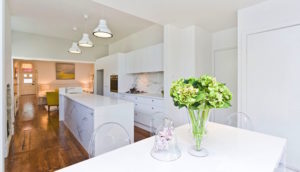 Image supplied by Naomi Findlay
When you want to profit from renovation, your primary goal is to unlock equity potential on a property.
This matters most when you're planning to put a property on the market or when you want to improve its rental yield.
Here are 4 tried-and-tested ways for you to increase the value of your property.
1. BE ENGAGING: Avoid The Things That Turn Buyers Off
Having been in the renovation and property styling industry for many years, I've discovered the following to be the most common 'major turn-offs' for potential buyers:
Dirt, dust and unclean spaces
Dark, damp and unused areas
Unwanted smells and bad colours
Poor and incomplete repairs of the absence thereof
Unstaged properties that opened for inspection anyway
Expert Tip:
Consider getting an objective appraisal for your property.
This sounds simple, but if you're living in the same property you're selling, it's easy to miss specific areas that have potential for improvement. By having someone cast a fresh pair of eyes on your property, you can identify which areas need sprucing up.
2. BE RESPONSIBLE: Implement Repairs And Maintenance
It's essential that your property is presented in its best light, so you should take proactive steps for buyers to see that:
Your property is well-maintained
It's well-taken care of
Your property requires low maintenance to live in
Expert Tip:
You should implement repairs; you'll most likely profit from them in the end.
Most buyers don't want to feel like they need to spend money on a property. In this case, you should aim to have it ready to be lived in immediately.
If you have broken light fixtures or light bulbs that aren't working, for example, you should take the necessary steps in order to fix them. Here's something I wrote about lighting to get you started.
3. BE NEUTRAL: Eliminate 'Polarising' Features Wherever Possible
Work hard on making sure that there's very little in the property that can polarise, offend or turn a buyer off. Some examples of items considered to be polarising are:
A large religious shrine
A dated decorative item
A political statement in any form
Expert Tip:
Strive to stay neutral.
You should strive to stay neutral in every aspect of your property. By removing the polarising items from your property, you greatly decrease your chances of offending or turning off a potential buyer from making an offer.
4. BE A SHOW OFF: Highlight The Best Parts Of Your Property
With buyers typically spending between 6 – 30 minutes in a property on Open Day, it's essential that you guide them to the highlights first.
For example, if you want to show off your kitchen, then you should take steps to ensure that it stands out on Open Day.
Remember that initial impressions about the property are built in the first 2 minutes upon a prospective buyer's arrival. So set the first and last impression of what the property showcases and avoid these low lights.
Expert Tip:
One of the best ways to achieve this is by focusing on your prospect's line of sight.
That is, grabbing their attention with interesting and colourful objects to lead them from one space to another (be mindful that they don't attract unwanted attention, however).
You can also create traffic zones through the property for buyers to follow in order for them to reach the places you want them to see and spend time in for the first part of the inspection.
FINAL THOUGHTS
Maximising the value of your property involves paying attention to the small but relevant details that equate to value. While your attempt for an increased valuation may involve larger renovation tasks, there are those small things that you can do to help add value to a property.
The Property Renovation Library | The Property Renovation Video Hub