Naomi Findlay Featured On Your Investment Property Magazine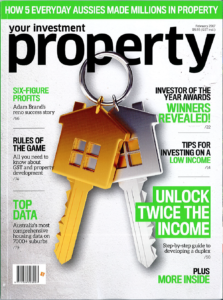 Recently, our very own Rapid Renovation Expert Naomi Findlay was featured in Your Investment Property magazine. In it, she shares her beautiful affair with property renovation.
Here's a sneak peak of the article.
VENTURING INTO THE WORLD OF PROPERTY INVESTING
Naomi Findlay has been a property investor for almost 10 years now. Her foray started when she renovated her own property before she sold it. The results were amazing and since then, she's tried her hands on different property investing strategies using the buy-hold-sell technique.
It wasn't long before she integrated a more scientific approach into her investing strategies. That is, she started expanding her target investment areas by firmly focusing on suburbs that offer great short-term growth. In doing so, she established her own portfolio of rental properties.
Because her strategy is to generate wealth through property quickly and more effectively, Naomi learned how to capitalise on time. With her renovation projects taking between 4 to 10 weeks to complete, she also started holding on to her rental properties for 3 to 4 years before renovating and selling them.
NAOMI'S FAVOURITE INVESTMENT
We've always been telling people at our national property events that the key to successful property investing lies on one element: education.
In a gesture of affirmation, Naomi revealed that her favourite investment is her own education. And that's not just on property, investing, and design. Her life as a Rapid Renovation Expert also meant that she's a project manager. As a result, Naomi invested on people management, team management, and communications management. All of these allowed her to advance her 'career' in property.
THE PERKS OF SPECIALISED KNOWLEDGE
Zadel Property Education advocates specialised knowledge. That is, mastering the nuts and bolts of a property investing strategy. In the interview, Naomi revealed her very own education allowed her to develop her businesses and turn them into trophies of success.
But her success isn't only limited to her businesses. Between her life as a renovator and an investor, Naomi is also a mother of 4 growing kids! The success of her property investments meant that she has more time to spend with her family now.
In fact, she fondly states that outside property, her best investment is an oversized canvas tent. That may come as a surprise to you but Naomi said that the tent allows her, her family, and her friends to go out there and enjoy the beauty of the outdoors.
NAOMI'S ULTIMATE PROPERTY INVESTING GOAL
With the degree of success she's enjoying now, Naomi confides what most of us also wanted to achieve: total freedom. Naomi says that her ultimate goal is to be able to attain financial freedom, freedom to make decisions, freedom to enjoy life's simple offerings, and, of course, freedom from time itself; so she can have more time with her family.
Isn't that fun?
The Property Renovation Library | The Property Renovation Video Hub